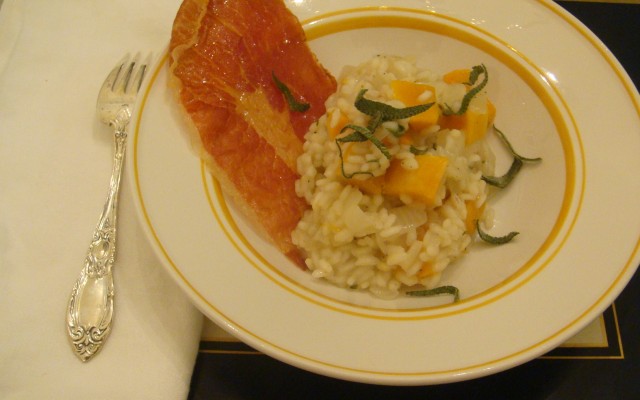 I have a mild prejudice against butternut squash risotto.  It's so… done.  Which is not to say that any dish on this website is completely new-fangled, original, creative, and whatever else.  Or even remotely any of those things.  For the most part, it's just dinner.  I do love dinner.  But not when it's so overdone.  I suppose my antipathy for the particular dish above has to do with a friend who, regardless of season or of year, complains about a butternut squash risotto his loved one now departed once made for him on Thanksgiving when all he wanted was a properly roasted bird or beast.  I think it's been years since this event took place, and this friend is Canadian.  Considering what to make with a few girlfriends for dinner last weekend, it occurred to me that this friend might not be so reliable.
Besides, butternut squash is gorgeous, properly autumnal, and rarely disappointing, as I have sometimes found other squashes to be.  (Acorn in particular, which seems to be either a blessing or a curse, and rarely anything in between.)  And another (I think more reliable) friend notes that I make risotto like a machine.  Which I believe to be a good thing.  Perhaps he will weigh in.  Either way, this was very good.
And it's quite something, sometimes, when you discover what made something become so done in the first place.  I hate sage.  It's fuzzy.  It's bitter.  Harold McGee says that in quantity it can be damaging to the neurons or some such other science business.  And against squash and starch, sage is magic.  I had forgotten this.  Sometimes it's best not to muss with the classics.
Butternut squash risotto with crispy prosciutto
1 small butternut squash  |  1 tbsp olive or other cooking oil  |  some hardy herbs, like rosemary or thyme, dried or fresh, optional  |  salt + pepper  |  1 small onion  |  butter, as much as you can handle without getting scared  |  1 cup short grain rice, like Carnaroli or Arborio  |  1 glug dry white wine  |  4ish cups water or stock  |  ½ parmesan cheese  |  4 thin slices prosciutto + more for snacking  |  several big leaves sage
Heat oven to 400 F/200 C. Cut the squash into a size that pleases you, and don't be afraid to buy the precut kind. If you buy one whole, split lengthwise and then peel with a vegetable peeler.  Toss with the oil and herbs if you have them, season with salt and pepper, and then shove in the oven to roast until tender but not mushy, 20ish minutes, depending on the size of your squash.
Meanwhile, heat the water or stock in a small pot to a bare simmer and dice the onion. Melt the butter (at least a few tablespoons) in a large-ish pan over medium heat. After it has stopped foaming, add the onion, and season well with salt + pepper. Let sweat for a bit, without browning, about 3-5 minutes.
Add the rice to the onion pan and stir so that every grain is coated with the butter.  Wait a minute or two and then add the wine glug.  If it doesn't bubble happily, adjust heat so that it does.  When it is nearly gone, add a few ladles of the hot water or stock, and season well with salt + pepper.  Let it bubble until it is nearly gone, then add some more liquid, let it bubble until nearly gone, and then repeat, and repeat.  The notion that you have to stir risotto constantly is nonsense.  But do make sure nothing sticks at the bottom every now and again.  It will be done in about 18 minutes.
While you're waiting, roll up the sage leaves and cut them into a pretty chiffonade.  Or just tear them.  When the butternut squash is done, remove from the oven to cool, and turn the oven to 300 F/150 C.  Place the prosciutto on a baking sheet in the oven for about 5 minutes.  Then remove that and let cool until crispy like a potato chip.
When the rice is a few minutes shy of done, toss the cheese in, add another knob of butter, and stir vigorously.  (Sorry.)  Taste and adjust seasoning.  Serve immediately with a prosciutto chip and some sage on top.
Serves 4