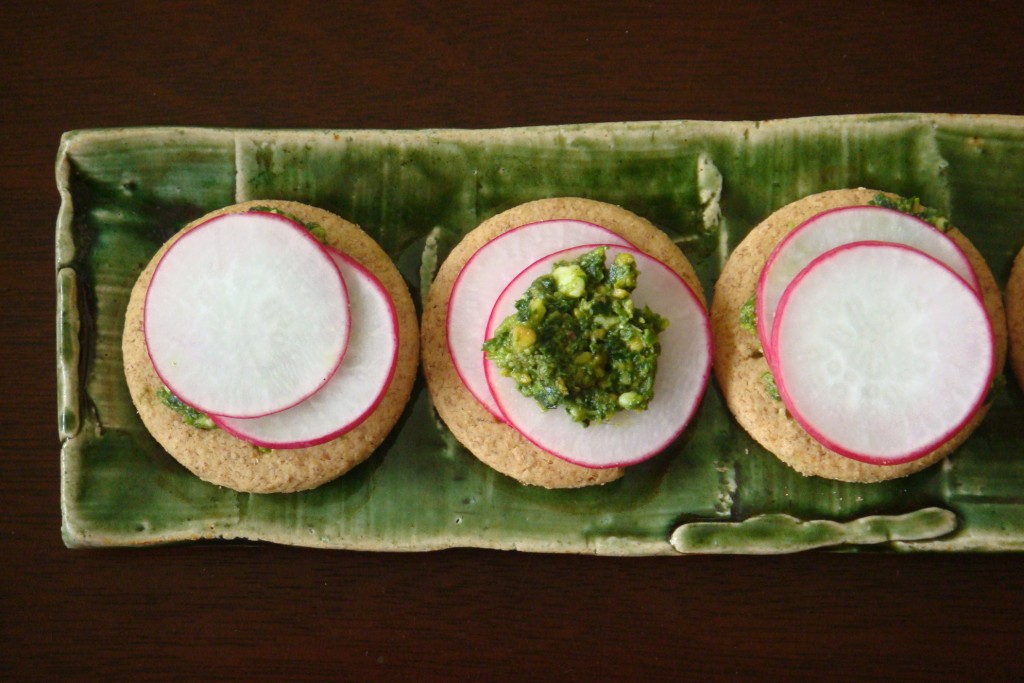 I think my own mother would hate these, but pink and green does seem the right color scheme for Mommy's Day.
Radish pistachio pesto
Lest you think I am original (or just weird), dear readers, rest assured that other people like radish pesto, too.
Radish leaves from 1 bunch radishes, tough stalks removed  |  palmful salt  |  large handful parsley  |  parmesan cheese  |  1 small clove garlic  |  pistachios  |  pistachio oil  |  ½ lemon
Blanch the radish leaves. (Bring a pot of water to a rapid boil. When that has happened, add the salt, and then the radish leaves. After 30 seconds, remove from heat and drain well. Don't worry too much about 'refreshing' your radish leaves in cold water, though. It's not that important.)
Squeeze out the radish leaves and place in a small food processor with the parsley, a small grating of parmesan cheese, the garlic clove (or half of it, if raw garlic scares you), a palmful of pistachios, a good glug of pistachio oil, and a squeeze of the lemon. Process, taste, and repeat until satisfied. I like a relatively small amount of cheese, the full clove of garlic, and a good bit of pistachio oil + lemon.
As crostini: Serve on hearty crackers or little toasts with thinly sliced radishes. An over-under scheme looks quite cute on the plate.
With the leftovers: Fold into omelettes or toss into just-cooked spaghetti.